Hey there Festival goers :) Thought it might be useful to post information on the entertainment, food, shops, and a map of the grounds itself, at the faire, so people can plan on what they want to see and do, and we can all kind of coordinate a bit easier (hopefully). Quite a bit of this info is actually now on their website ( www.renfair.com ), so maybe I'm just duplicating effort and wasting bandwidth, but hey, I've got all this free webspace anyway ;) I should mention that the logo above was taken from the Bristol web page , and some of the descriptive text on the acts, showtimes, store names and locations, etc, on the BRF pages here are out of various guides and such that I got at the faire. The pics are all mine though, from my photos page :)
Sooooo... here is the first installment of stuff. I'm going to be adding to it each day rather than doing it all at once, so come back and check what is new for you to peruse.
*New* 7/15/2000 - The pictures are up!
*New* 6/30/2000 Helpful handy quick index
*Also New* Some of the entertainers and shopkeepers have websites. I've linked all of them that I've found so far. Check the Entertainers by Group link and the Shopping! Link for more.
6/27/2000
First off, the map, since this is something that you'll need to figure everything else out...
*Warning* This map is rather large in file size (321 Kb), as reducing the quality or making it smaller obscured details that I wanted to keep in. Just click on the thumnail pic to get the full sized view. It might be handy to print this map out so you can mark points of interest on it, and don't have to keep loading the online one back up.
Note: I have had problems printing this page directly from within IE, it seems to cut off edges, etc. If this happens, its probably best to save the image to your computer, load it into a paint or word processing program, and print it from there. I sized it in Photoshop to print out to about 6x11 inches, so it should fit on standard paper.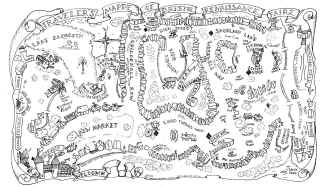 All right, now that you have a map here's the first installment:.
Bessie's Harbor

MooNiE the Magnif'Cent takes to the high wire with silent, crazed comedy hi-jinx. Don't miss Yea Jeffrey - juggler extraordinaire, one weekend only. (The weekend of the meet, it will be Yea Jeffrey performing).
Cheshire Chase Action Theatre
Dirk and Guido: The Swordsmen! Bristol's favorite Itinerante Gentlemen Adventurers are back with infectious comedy, furious swordplay and outrageous lessons in gentlemenly behavior. Seeking good, unclean fun? Celebrate the triumph of quick wit over good taste with the bawdy, rude and wild energy of Sound and Fury who present Testakles and Ye Sack of Rome (PG-13)
The Globe Stage
Beginning July 8th, celebrate the Bristol premiere of The Ded Bob Show. Bob is, or was, a Renaissance Man. Now he's a skeleton, but death has done nothing to diminish his love of wine, women, and song.. Carried about by his erstwhile half-wit assistant, Smuj, Ded Bob brings his gallows humor to the stages and streets of Bristol. Sing along with the Mastersof Macabre Mirth, the Singing Executioners for two weekends only. The plague has never been so much fun. You will also be amazed by the razor sharp humor of Polo's Hit & Run Comedy (PG-13), a silent show that will have you holding your sides.
Kid's Kingdom
Play with Mistress Beatrice Pickles and her crazy crew in this interactive play land. Find hidden treasure! Be made a Knight or Lady by the Queen. Partake in Adventure Activities with Her Majesty's Official Time Travel Passport and Activity Sheets.
Midsummer Stage
Find your Faire Favorites the Minstrels of Mayhem (A-Hem!) and Molly and the Tinker (PG-13), who bicker their way into your hearts. End your faire day here for the raucous Musician's Revel.
The Mud Pit
The Sturdy Beggars Mud Show (PG-13) - The Greatest Show *In* Earth! Enjoy the masterful madness in the Mud Pit as the Beggars compete in contests of amazing muckiness to see which beggar will eat..yes, EAT MUD!
Pig n' Whistle
This lively tavern features a range of fun and fascinating performers. Featuring Molly and the Tinker (PG-13), and the sensuous soul serenade of Scheherezade's Gypsy Travellers.
Beware the Danse Macabre
Even in the most festive villages the Plague is a persistent threat. Among the customs for warding off death is the Dead Parade, or Danse Macabre, which moves through Bristol to show respect for those who have died and send death away from the realm.
The Many Executions of Captain Nicholas Cutter
Captain Nicholas Cutter and the Bristol Seadogs are returned to port, hold busting with goodly booty. More wonderous than this, Nick has found love! Verily, his ship hath come in.
All is not well how'er. Pretty Anne, she who hath the heart of goode Captain Cutter, is in very sooth Anne Paston, niece of Sir Edward Coke, Attorney General to Her Majesty the Queen, and formidible foil to Nick and his salty Seadogs. to heap harm upon harm, Nick's cargo hath been found in violation of a legal monopoly, thus pirated, making the Seadogs outlaws and targets for the wrath of Coke.
Sir Edward cries havoc, letting slip his dogs of war. Can the Seadogs hold to? Will Sir Robert Dudley, Queen's favorite, and holder of the monopoly, crush Captain Cutter? Will Nick ever have his Anne? Follow the hillarious action through the streets of Bristol and at 4:30 at the Cheshire Chase Action Theatre.
Indeed, Captain Cutter's ship hath come in. If only he can bail fast enough...
Wyckham Field

Wyckham Field hosts some of the faires more unique shows, like the demonstration of the Royal Falconer, who shows the majesty and skill of natures bird's of prey in an exhibition of hunting prowess.
Be sure not to miss Hanlon-Lees Jousting Knights at Wyckham Field, consisting of three shows a day - a joust of skill against the quintain, rings, and shows of horse and swordsmanship; Her Majesty's Joust; and finally, The Final Joust, whereupon the knights take to the field and joust against each other in full armor. A spectacle not to be missed.
Some of the performances you'll see at the faire are listed below:
6/29/2000
What is a festival without food? The Bristol Renaissance Faire offers a culinary world tour, featuring food and beverage to appeal to all tastes. The faire chefs are busy creating such favorites as fresh roasted turkey legs, savory simmered garlic mushrooms, English fish and chips, grilled portabella mushroom sandwiches, mile high fruit-filled ice cream crepes, corn on the cob, and refreshing Italian ice, among others. For a more detailed selection of foodstuffs, and locations of where they can be found, click here!
6/30/2000
Rated on of the "Top Show Recommendations" category of "The Network", a leading nationwide arts and crafts magazine, the faire boasts over 170 merchants in the Tudor style village market. Everything from hand-blown glass, to jewelry, spun clothing, hammered pewter, candles, soaps, scented oils, carved wooden toys, hand-tooled armor (woohoo!), are available in Bristol, many items crafted right in the village itself. A number of merchants provide demonstrations of their craft throughout the day.
The shops are broken up by category, click on the category below to be taken to the appropriate area:
All right, my pictures from the 2000 meet are scanned and up now. Not as many as I'd have liked, nor as good as I'd have liked, but its too late to change that now... Any of you other folks from the meet that have your own URL for meet pics, send me the link and I'll put it here with mine :).
---
Best experienced @1024x768 with

Click here to start.

Microsoft is a registered trademark and the Microsoft Internet Explorer Logo is a trademark of Microsoft.

Comments? Email: brothertheo@geocities.com

This page accessed times since 06/27/2000

This page hosted by Get your own Free Homepage
---