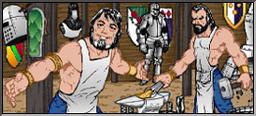 Ultimate Red Dragon's Ultima 7 (The Black Gate) Solve.
This page has been used by

people.

Introduction
Trinsic
Britain
Cove
Minoc
Paws
Jhelom
Britain (once again)
Vesper
Moonglow
Terfin
Meditation Retreat
Empath Abbey
The Emps and the woods
The Wisps
Skara Brae
The Time Lord
Spektran
The Dungeons
Ambrosia
Meditation Retreat (For the third time)
Buccaneer's Den
Isle of the Avatar
The Black Gate
The Trinsic cheat area
Hidden treasures
The little town mysteries
Credits
Music information
Introduction
Hi ok since I have played the game and have seen little spoilers for the game going arround the internet and they seemed short to me (like they skipped some important information.)So I have decided to write this.There are two ways to beat this one is you go straight to the things you need to do or you can follow Elizabeth and Abraham through all the towns solving the mysteries that you find (not really necessary but it adds more enjoyment to the game.) I am going to tell you the long and interresting way. If you have some information that you think I should add to this or if you have any comments or suggestions Please E-Mail me at sccouchman@hotmail.com. Thanks. Now on to the information. Top



Credits

Ultimate Red Dragon sccouchman@hotmail.com
Top









Ultima is copyright Origin Systems Inc. All images belong to thier respective owners, and should not be taken without premission.
Thank you.

This site works best in Netscape Navigator at a resolution of 800*600 or better.